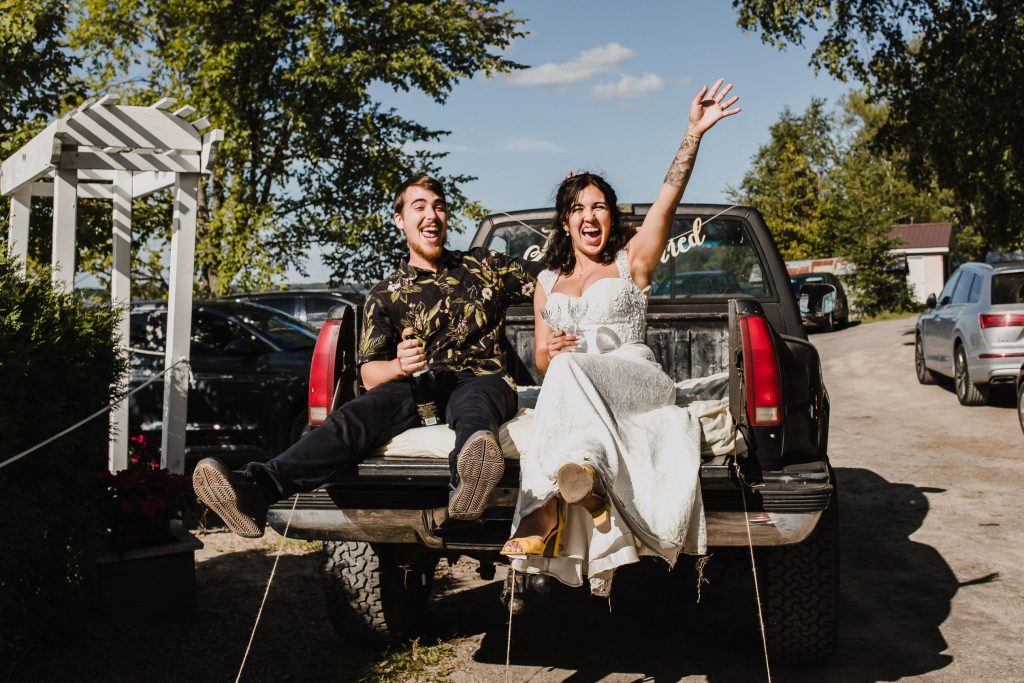 Intimate Home Weddings Are Magic But Require Planning. 
Back in July 2020, I photographed a beautiful at-home micro-wedding. Surrounded by an intimate group of 10 guests, the couple exchanged vows under the towering trees on the groom's parent's front lawn. Dressed in simple, breezy summer attire, they shared their first dance on the driveway. Then, after a gorgeous couples session in a freshly cut hayfield, the bride and groom joined their loved ones for champagne toasts and a delicious (delivered) meal at the family table. It was different, beautiful, and incredibly magical. It was also the first of many intimate home weddings I shot during that first Covid summer. 
Whether an intimate home wedding has always been the dream or is a new option on your list, getting married at home has become a very popular option over the last year. (Thanks, Covid.) In fact, backyard and at-home weddings were gaining ground even before Covid rolled in. While your home may not offer the same scope as a more traditional wedding venue, planning a wedding in your own home or backyard has a lot of potential for romance, charm and amazing memories. But, just like a bigger, more traditional wedding, an intimate ceremony at home requires some serious planning!
Getting Organized Ahead Of Time Will Make Your Wedding A Success. 
If you have decided to jump on the home wedding train let's talk about getting organized and making a wedding plan list that doesn't include stress or chaos! Before you start eyeing up that stunning willow tree in the backyard (yes, the natural light would be perfection!) or the cozy fireplace in your parent's living room (who doesn't love a cozy candlelight moment?) there are a few things you should consider.
5 Intimate Home Wedding Planning Tips From Couples Who've Done It. 
Who better to ask about planning a home wedding than couples who have done it and survived to tell the tale? I asked several of the couples I have had the absolute pleasure of working with over the last year to share their top planning tips with couples like you who are considering pushing play on their own intimate home wedding. Here's what they came up with: 
Hire a cleaning service for wedding day cleanup.

The last thing you want is to wake up on your first official day as a married couple and start cleaning. Talk about a buzz-kill! Hire cleaners or delegate the job to a willing group of friends. 

Put someone in charge of the music.

Whether you hire a DJ or delegate the job to a reliable friend, you shouldn't have to hit "play" on your own first dance song. Make a playlist, pass your phone off and enjoy your special day. 

Skip a sit-down meal and opt for hors d'oeuvres.

This came up more than once! Unless your guest list is very small, have plenty of nibbles and finger foods spread around the house or yard for people to enjoy along with their drinks. 

Be flexible.

Every wedding day has a few hiccups. The weather may not cooperate, the caterer might bring the strawberry vinaigrette instead of the raspberry, you could break a nail. Don't sweat the small stuff. Roll with it and you (and your guests) will have a great time!

Tell your neighbours about your gathering ahead of time.

Chances are your neighbours will be more than happy to accommodate your wedding plans – if you tell them about it in advance! Let them know there may be music playing and people in the yard later than usual so they can plan accordingly. Plan on bringing them a nice bottle of wine to say thank you. 
Each couple had their own tips to offers but they all seemed to agree on one thing: planning a wedding in your home or backyard is a great option but you will need help to pull it off.
Tips From Industry Professionals: An Event Planner And Photographer Weigh In
The message from my couples was clear. Getting and staying organized is a critical part of planning a successful home wedding. So, I decided to reach out to an industry professional, Neena McConnell of Wallflower Events and Designs. Neena is a talented and experienced Certified Floral Designer, Event Decorator and Wedding & Event Planner who has helped couples plan dreamy weddings on big and small scales. She weighed in with some super helpful tips for planning your best intimate wedding at home.  
Make sure the wedding you are planning will work in the space you have!

Consider the size and privacy of your home and property, how accessible the house or yard is, and how much space people will have throughout your reception. 

Rent a tent.

If you are planning an outdoor ceremony or reception, this is a must. There is no way to guarantee that the weather will cooperate and tents shelter guests from the rain and the sun so you are covered (

literally

) no matter what Mother Nature throws at you.

Rent restrooms.

Neena couldn't stress this one enough. Unless you want guests wandering through your house to find a washroom, renting some restrooms is a sanity-saver. 

Splurge wisely!

One of the benefits of having a small, intimate home wedding is the savings. If you have the wiggle room – wiggle! Splurge on the things that matter most like good food, good flowers and an amazing photographer. 

Have fun!

If you want your guests to dance and have fun, make sure there is an accessible space for that to happen. (You may have to rent a dance floor – dancing in heels on the lawn can be tricky!) Set up games or activities for your guests to play while they mingle. It's all in the details and with a backyard wedding, you have some unique opportunities to make them count. 
As a photographer, my top two tips are easy ones. First and foremost – find the light! Take the time and map it out at different times in the spots where you think the magic moments are going to happen. You want the photos of your ceremony, first dance, and dinner to be well lit, trust me. Invite your photographer over for a walk-through before the big day. They will be able to help troubleshoot and may just have some great suggestions. The second tip might not sound like much but it's important! Ready? Remove the clutter from your home or yard. Designate a room or spot in the garage and put all the knickknacks and "extras" there for your wedding day. Not only will you have more space for you and your guests, but you will also have cleaner photos! 
Having an intimate home wedding can be a really magical event when it is well planned.
There are plenty of benefits to having an intimate wedding at home. Because you have a smaller space and guest list to manage you can invest more of your time (and money) into the details. You can also delegate important tasks to trusted friends and family and approach important aspects of your wedding day – like food – in a different, less traditional way. Any way you look at it, whether you are hosting your intimate home wedding in your yard or in your house, keeping things small can be a great big success! So, break out the To-Do Lists and get planning! Oh, and if you are looking for a photographer that loves to shoot backyard weddings, contact me today and let's talk.